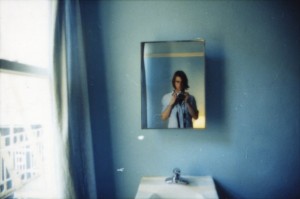 Name: George Mavrikos
Year of Birth: 1981
Nationality: Greek
Based in: London
Website: www.georgemavrikos.com
Inspirations/Influences:
The cover art for Patti Smith's Horses, shot by Robert Mapplethorpe, has been a constant inspiration and point of reference for its simplicity and attitude.
Persona by Ingmar Bergman has to be one of the most visually stimulating films I have ever watched.
I try to take on documentary projects that will provide me with inspiration and push my work further. I recently traveled to San Francisco to photograph the Women's Motorcycle Contingent, which resulted on my first solo show.
Exene Cervenka and the late 1970's California punk music scene have inspired the majority of my work.
Three people you would love to work with:
Benjamin Cho for never failing to surprise, Lotta Aspenberg and John Colver are two stylists I would love to collaborate with.
Who do you think is one to watch?
Dorothea Barth-Jorgensen at Elite London and Susie Mashford at Select are two girls that have amazing potential. I am expecting to see great work coming from new London designer Millie Cockton and photographer Amarpaul Kalirai.