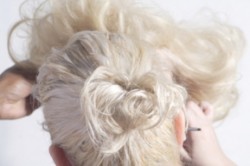 Name: Lottie
Year of Birth: 1974
Nationality: American
Based in: NY
Website: www.lotstar.com
Representation: www.ateliermanagement.com
Inspirations/Influences:
I usually am inspired by the elements of the shoot (i.e. model, clothes, concept) but I also find a lot of my inspiration comes from film (especially French cinema) and pop culture. My biggest influences from a young age would have to be Madonna and Serge Lutens.
Three people you would love to work with:
Shalom Harlow, Marion Cotillard and Monica Bellucci
Who do you think is one to watch?
There are so many amazing new talents creeping up to the spotlight, I can't pick just one. As far as models go though, I think Martha Hunt @ Next is going to be a huge star.