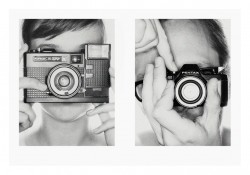 Names: Kris De Smedt (photographer) + Stephanie Van Maele (production)
Years of Birth: 1977 (Kris), 1979 (Stephanie)
Nationalities: Belgian
Based In: Belgium
Website: www.septantesept.com
Representation: C'est Chic
Inspirations/Influences:
I like to be inspired by a good sense of bad taste. I love pop culture, the rawer the better.
Three people you would love to work with:
Marc Jacobs, Vincent Gallo, Grace Jones.
Who do you think is one to watch?
Philip Metten, a young artist who's work I admire.